Sometimes photos lack that certain something that makes them pop. Maybe it is too light or too dark, the color is not quite right, or there is too little contrast… or perhaps the background is too busy and takes away from the subject. Maybe someone's skin broke out on picture day, or it lacks an attractive glow… or perhaps their clothing isn't laying right, creating distracting creases. With professional retouching, there are lots of improvements that can make ordinary photos look better! See Retouching Portfolio.
In addition to basic image correction and retouching, I can do more complex manipulation and repair. Advanced Retouching and Restoration includes major skin/beauty retouching, replacing backgrounds, adding people or objects to an image, switching out people's faces (as in group photos), opening closed eyes, adding filters and effects, restoration of old family photos, etc.
Basic Retouching Service includes simple color correction, contrast and tone correction, sharpening,
and minor retouching to subject and background.
$5 – first image
$3 – each additional image
*Discounted rates for quantities of 10 or more. Contact me for more information.
Cost estimates for Advanced Retouching and Restoration Services are provided on a per-project basis.
Please contact me with details and I will provide a quote!
Note: retouching and restoration is done digitally, so I can work with you even if you are not in the Columbus, Ohio area!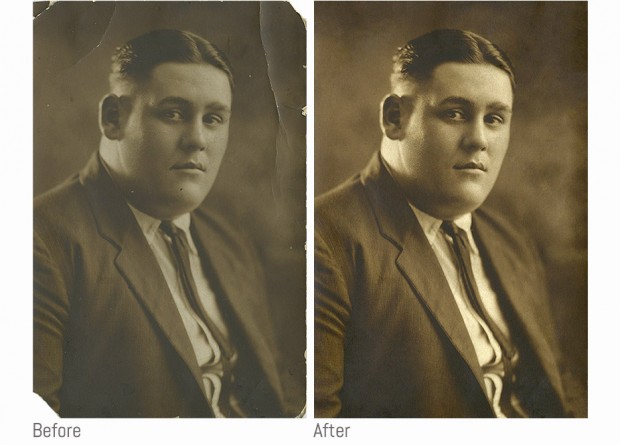 If you would like to inquire about retouching, please fill out and submit the form below. Please be sure to include as many details as possible in the Comment box regarding your images and the type of retouching you would like to have done. You may also call me at (216) 659-6080 with further questions.